LA QUESTION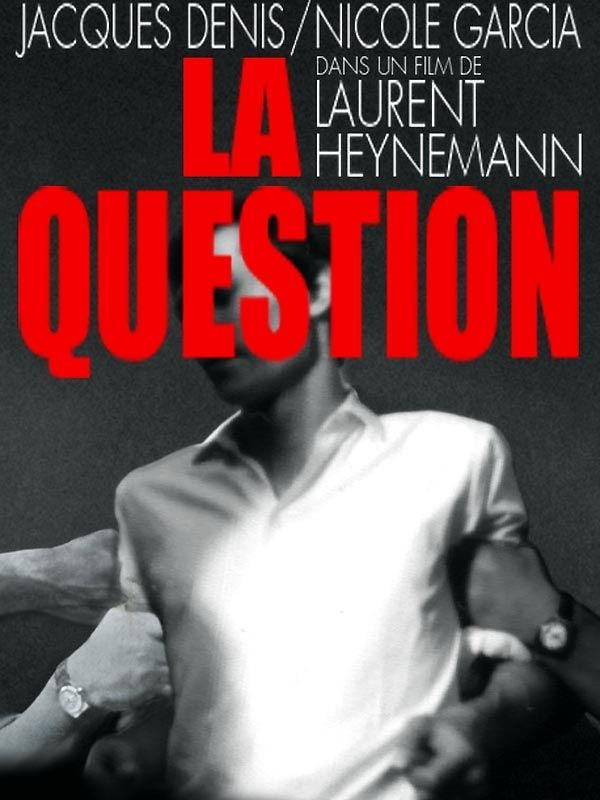 1957, Alger : les parachutistes font régner l'ordre dans la ville. Henri Charlègue, directeur de Alger démocratique, seul quotidien algérois ouvrant ses colonnes à l'opinion nationale algérienne, vit dans la clandestinité après l'interdiction de son journal. Charlègue est arrêté par les parachutistes alors qu'il se rend chez son ami Maurice Oudinot et aussitôt conduit sur les hauteurs d'Alger, dans un immeuble transformé en centre de tri et d'interrogatoire. Pendant plus d'un mois, Henri et Maurice y subiront tortures et interrogatoires.
June 1957, Algiers : the paratroopers are in charge of law and order in the city. Henri Charlegue, editor of the only news paper open to the Algerian national opinion and has therefore to live undercover. But he will be arrested, along with Maurice Oudinot who is suspected of belonging to the F.L.N. They will be kept in confinement and tortured Oudinot will not make it and Henri after being finally released decides to file a complaint and to write a book about his detention, hoping to alert the international opinion.
THRILLER
1977-110'
Directed by : LAURENT HEYNEMAN
JACQUES DENIS, NICOLE GARCIA, JEAN‑PIERRE SENTIER
french and german
Based on a story by HENRI ALLEG *SAN SEBASTIAN FILM FESTIVAL
Laurent Heynemann remporta en 1977 le Prix spécial du Jury au Festival International du Film de Saint-Sébastien.
version francaise : https://vimeo.com/221409319